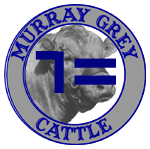 7 Lazy 11 Murray Greys is a progressive line breeding program based in superior conformation standards for the purpose of expanding on the excellent genetic traits of the Murray Grey breed. We support our strict conformation standards with DNA testing. The most reliable measure in determining the genetic value of a herd is conformation. Uniformity in a herd that is balanced with top notch conformation is rooted to breeding programs that use proper genetics. DNA testing, is in our opinion, the only companion tool to conformation capable of reliably evaluating genetic traits.

We are very cautious in using EPD data as a tool for selecting individuals into our herd. EPD's are vulnerable to inaccurate input of data and varying environmental factors. Accuracy in EPD's are subject to skewed input of data, varying environmental factors and inconsistencies in databases compiled without large numbers of cattle. Accuracy in EPD's requires a very large data base. The only breed plan statistics that we lend any credence to, is the large amount of data compiled by Australia's Murray Grey Beef Cattle Society.

Our herd sires have the genetic background of superior conformation and proven performance. Twin Fir Smoke and WCC Freightliner originated our herd sires and many of our females. Both sires possess impeccable conformation and derive from the top echelon of individuals evaluated through Australia's breed plan (EBV's) which is equivalent to EPD's.


---
In addition to superior conformation; Willalooka Power and Temar Lotus have great data compiled by the Murray Grey Beef Society of Australia. Australia's breed plan statistics are the most accurate and reliable throughout the world regarding Murray Grey's. From their inception of calculating Estimated Breeding Values (EBV's) to present, Willalooka Power and Temar Lotus rate in the top echelons of significant traits. The random DNA testing that we have performed on our offspring finds our genetics meeting and surpassing benchmark standards.

The designed purpose of 7 Lazy 11 Murray Grey's is to assemble the best of the breed and build viable relationships with the beef industry's producers, feeders, retailers and consumers. Murray Grey's are a well balanced breed with all the attributes necessary to be the leading breed throughout the American Beef Industry. They are derived from pure English genetics without the many genetic defects that have mutated within so many other breeds.

Our Herd Sires are sons of Twin Fir Smoke and out of WCC Freightliner daughters.