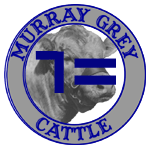 The 7 Lazy 11 Ranch also offers grass finished beef to the public. Our ranch to fork program strictly processes 75% to 100% Murray Greys.

Properly finished and processed, Murray Grey beef provides the healthiest and tastiest beef available on todays market. Our demand is much greater than what our supply can keep pace with.

Many grass finished beef operations are turning to Murray Grey cattle in order to achieve optimal feed conversion and carcass quality. Panorama meats supplies organic grass finished beef to Whole Food Markets. They have found the Murray Grey to be consistently a top carcass performer and are becoming a volume buyer of our bulls for seed stock purposes.

Murray Grey beef is exceptional whether it is grass finished or grain finished. Collected data scores the Murray Grey as a carcass trait leader in yield, marbling, tenderness and flavor.


---