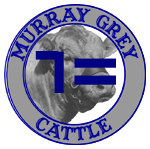 Mike and Gaylene Lowry were first introduced to the Murray Grey breed in the late 1990's. From a lifetime of involvement in the beef industry and experience with many different breeds of cattle, Mike has discovered that the Murray Grey is an efficient animal, producing high value results in all carcass categories.

In 2003, Mike and Gaylene decided to become directly involved with growing and advancing this unique breed of cattle and started developing their 7 Lazy 11 Murray Grey herd. Located in Fernley, NV with additional leased ground in out lying areas of North Western Nevada, the 7 Lazy 11 herd is being carefully expanded by the retention of their best heifers and an occasional purchase of a top quality female.

The purpose of 7 Lazy 11 Murray Greys is to market superior quality bulls and heifers for the benefit of commercial cattlemen and purebred Murray Grey breeders. We are developing markets into the grass finished beef and organic grass finished beef business for our clients who are using 7 Lazy 11 genetics. From our experience we firmly believe that the Murray Grey breed can only benefit the U.S. beef industry. The breed has proven to us to be an inherent rising leader within the whole of the industry.

Visitors are always welcome and Mike would love to answer any questions you have regarding this remarkable breed of cattle.

---