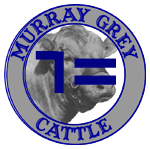 In the United States the Murray Grey breed is virtually unknown. This breed is unequivocally the greatest untold story in the history of beef cattle. If one was to summarize the breed in a single sentence it would read;
"Pure English genetics that produces excellence in desired cattle traits."
Significant studies regarding the genetics of the Murray Grey have been scientifically conducted by scholars of genetics in beef cattle. All conclusions collectively indicate that the Murray Grey is derived from the actual origins of the Black Aberdeen Angus. There is an adequate concordance derived from these studies to which the argument that the Murray Grey retains the purest of Angus genetics is a valid argument. This is evident in the hair coat colors of the Murray Grey. Murray Greys are black hided with either silver, dun, dark grey or black colored hair.
The historical accounting of Black Aberdeen Angus traces back to the Icelandic cattle as early as the Tenth Century. The Black Aberdeen Angus, by all accounts, originated in East Central Scotland during the Eighteenth Century. These original Angus Cattle were bred from the Icelandic Cattle (Norse Cattle) which were imported into Scotland by the Scandinavian people during the time Scotland was being invaded from Scandinavia. The Norse Cattle were predominantly polled and were multi colored from which some were brown, black, grey, white, pied and brindle.
In all breeding histories there is the powerful human influence. It seems clear that Black Aberdeen Angus are principally black simply because breeders who exercised a great deal of influence in comparatively recent times said that black was to be the color, hence other colors were culled. The rich and powerful landlords of Scotland developed the Black Aberdeen Angus by the process of selection and culling of the Norse Cattle.
In South America there has been found in a closed Black Aberdeen Angus herd an occasional grey or light colored calf. The case of this curious color in such Aberdeen Angus Herds and Murray Grey's can be made that these cattle trace directly back to the origins of the Black Aberdeen Angus.
Please visit our
resources and links
page for additional information.
---